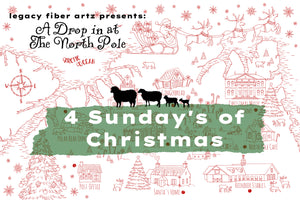 PRE-ORDER: "A Drop-In At The North Pole" Micro Sock Sets
Regular price $125.00 Sale
With this kit you will be celebrating each Sunday of Advent with a new micro sock set, so at the end of the month you will find yourself ready to head into the deep winter with four more beautiful pairs of handmade socks to add to your collection. Each micro sock set is individually and lovingly wrapped so you will have a surprise each week.

What you are getting:
🎄 4 Micro Sock Sets with each colorway pulled from our Visit To The North Pole Mini Skein Advent Set.  These will be our four most favorite colorways from that kit!
🎄 A beautiful little gift to open on the first Sunday
🎄 A surprise paper good appropriately themed to fit the North Pole.
Base Descriptions:

Steel Toes:
4-ply fingering base made up of:
75% Superwash Merino
25% Nylon
50g | 231 yards
20g | 97 yards